Florida Justice Association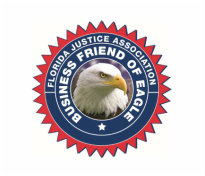 Esquire Bank is a "Business Friend of EAGLE"
In May 2013, Esquire Bank announced the execution of an agreement with the Florida Justice Association (FJA) that names Esquire Bank as a "Business Friend of EAGLE."
Benefits for FJA Members
Members will be assigned a personal private banker.
Members have access to Attorney Advantage Checking which offers amazing rates and unlimited nationwide ATM fee refunds.
What "Business Friend of EAGLE" Means for FJA Members
Enjoy a classic "private bank" experience. Members are treated like valued clients rather than customers--a practice long forgotten by "too big to fail" banks.
Members can feel comfortable dealing with a bank that does not support tort reform. Rather, Esquire Bank interests are directly aligned with law professional interests both politically and business-wise.
Capitalize on Esquire Bank's aim to be a fee-free bank. Our ultimate goal is to eliminate the monthly fees that pick away at your capital--another practice contrary to today's "too big to fail" banks. Included in this mission is our commitment to reimburse all ATM fees incurred when using any ATM in the nation.
Engage with a bank that has a complete understanding of the unique needs and pressures that law professionals face. Esquire Bank's attorney related products and services are laser-focused on members' business requirements.
About FJA
The Florida Justice Association is dedicated to strengthening and upholding Florida's civil justice system and protecting the rights of Florida's consumers. The association passionately believes that all Floridians deserve a fair chance to seek justice in the state's courts and that Florida's consumers are made safer when large corporations and industries are held to a high ethical standard and accept fair responsibility for their actions.