Consumer Attorneys of California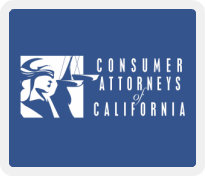 CAOC Names Esquire Bank a Recommended Bank for Its Membership
In October 2008, Esquire Bank announced the execution of an agreement with the Consumer Attorneys of California (CAOC) where Esquire Bank is a recommended bank by CAOC and its membership.
CAOC members enjoy exclusive benefits from this relationship.
Several prominent CAOC members have moved their business banking to Esquire Bank. For CAOC members who would like some reassurance about moving their banking relationship, these clients have graciously offered to be a reference. (Please contact us for CAOC references.)
Benefits for CAOC Members
Members are given extra special treatment and will be assigned a personal private banker.
Members have access to business products and services at pricing exclusive to CAOC members. You will also have access to co-branding marketing opportunities.
What "Recommended Bank" Means for CAOC Members
Enjoy a classic "private bank" experience. Members are treated like valued clients rather than customers—a practice long forgotten by "too big to fail" banks.
Members can feel comfortable dealing with a bank that does not support tort reform. Rather, Esquire Bank interests are directly aligned with law professional interests both politically and business-wise.
Capitalize on Esquire Bank's aim to be a fee-free bank. Our ultimate goal is to eliminate the monthly fees that pick away at your capital—another practice contrary to today's "too big to fail" banks. Included in this mission is our commitment to reimburse all ATM fees incurred when using any ATM in the nation.

Engage with a bank that has a complete understanding of the unique needs and pressures that law professionals face. Esquire Bank's attorney related products and services are laser-focused on members' business requirements.
The Esquire Card Program
About CAOC
Consumer Attorneys of California (CAOC) is an organization of more than 3,000 attorneys who represent plaintiffs/consumers who seek responsibility from wrongdoers, such as:
Consumers injured or killed by defective products or drugs;

People who suffer discrimination because of age, gender, disability or race;

Those injured or killed because of another's negligent acts;

Citizens whose civil rights have been violated;

Workers who have been fired unjustly or injured on the job;

Investors and others wronged by financial institutions (including failed savings and loans);

Insureds whose lives fall apart when an insurance company acts in bad faith and in violation of its own contract;

Patients who have been damaged personally and financially by negligent professionals.
In each case, the person the CAOC member represents faces an opponent with far more power and access to resources: polluters, governments, insurance companies, automobile manufacturers, and banks. CAOC members take cases they view as worthy, invest their own resources in developing and taking such cases to court, often over a several year period, and are paid only from those cases which are successful.