NY State Trial Lawyers Association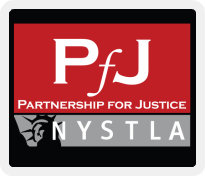 Esquire Bank is NYSTLA's Bank of Choice
In May 2010, Esquire Bank announced the execution of an exclusive agreement with the New York State Trial Lawyers Association (NYSTLA), which names Esquire Bank as NYSTLA's "Bank of Choice."
Click Here to read the Press Release
NYSTLA members enjoy exclusive benefits from this relationship.
Benefits for NYSTLA Members
Members are given extra special treatment and will be assigned a personal private banker.
Members have access to business products and services at pricing exclusive to NYSTLA members. You will also have access to co-branding marketing opportunities.
What "Bank of Choice" Means for NYSTLA Members
Enjoy a classic private bank experience. Members are treated like valued clients rather than customers—a practice long forgotten by "too big to fail" banks.
Members can feel comfortable dealing with a bank that does not support tort reform. Rather, Esquire Bank interests are directly aligned with law professional interests both politically and business-wise.
Capitalize on Esquire Bank's aim to be a fee-free bank. Our ultimate goal is to eliminate the monthly fees that pick away at your capital—another practice contrary to today's "too big to fail" banks. Included in this mission is our commitment to reimburse all ATM fees incurred when using any ATM in the nation.

Engage with a bank that has a complete understanding of the unique needs and pressures that law professionals face. Esquire Bank's attorney related products and services are laser-focused on members' business requirements.
The Esquire Card Program
About NYSTLA
For over 55 years, the New York State Trial Lawyers Association has worked to protect New York's civil justice system, fighting against legislative initiatives that threaten to limit the rights of injured consumers. These threats now exist at the federal, state, and city levels, making NYSTLA a crucially important voice for the voiceless. NYSTLA's mission: "To promote a safer and healthier society, to assure access to the civil justice system by those who are wrongfully injured and to advance representation of the public by ethical, well-trained lawyers."