Pennsylvania Association for Justice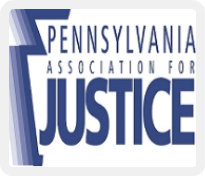 Esquire Bank is the "Bank of PAJ"
In May 2011, Esquire Bank announced the execution of an agreement with the Pennsylvania Association for Justice (PAJ) that names Esquire Bank as the "Bank of PAJ."
Click here to the read the Press Release.
In support of its commitment, PAJ has begun the process of moving its business banking to Esquire Bank.
Benefits for PAJ Members
Members are given special treatment and will be assigned a personal private banker.
Members have access to the Esquire Card Program (see below) at pricing exclusive to PAJ members. You will also have access to co-branding marketing opportunities.
What "Bank of PAJ" Means for PAJ Members
Enjoy a classic "private bank" experience. Members are treated like valued clients rather than customers—a practice long forgotten by "too big to fail" banks.
Members can feel comfortable dealing with a bank that does not support tort reform. Rather, Esquire Bank interests are directly aligned with law professional interests both politically and business-wise.
Capitalize on Esquire Bank's aim to be a fee-free bank. Our ultimate goal is to eliminate the monthly fees that pick away at your capital—another practice contrary to today's "too big to fail" banks. Included in this mission is our commitment to reimburse all ATM fees incurred when using any ATM in the nation.

Engage with a bank that has a complete understanding of the unique needs and pressures that law professionals face. Esquire Bank's attorney related products and services are laser-focused on members' business requirements.
Read about the decline of the paper check in Esquire Bank's editorial in October's PA Justice News.
The Esquire Card Program
About PAJ
The Pennsylvania Association for Justice endeavors to promote a fair and effective justice system by providing support to those attorneys who work to ensure that others can obtain justice in Pennsylvania's courtrooms, even when taking on the most powerful interests. The Association assists trial attorneys in Pennsylvania by:
Providing online and offline platforms where members can share information on legal and practice developments;

Organizing online and live Continuing Legal Educational seminars on all aspects of trial practice;

Publishing legal manuals and texts on critical areas of law of interest to PAJ Members; &

Advocating for the integrity of a robust civil justice system in Pennsylvania.
The aim of these activities is to help trial attorneys better represent their wronged clients. The Association has resisted measures that, in other states, have closed courthouse doors to those who rely on courtrooms as the last resort to obtain justice. The Association also fosters public awareness of the role of the trial attorney in the administration of justice and to protect every citizen's 7th Amendment right to trial by jury.