White Glove Service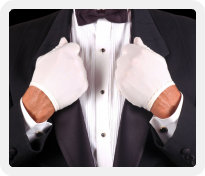 White glove service indicates the highest level of excellence and personal attention. Be it hospitality services or yacht sales, it signifies best in class. Esquire Bank brings white glove service to the world of banking.
We believe that white glove service goes beyond the basics of the banking tools. That is why we offer high-quality, responsive customer service, as well as more direct and personal attention for our clients. With a nationwide network of free ATMs to streamlined loan processes to highly advanced services, loans, and accounts for attorneys...we always aim to overachieve.
As a result of having an experienced and knowledgeable staff coupled with senior management's availability on a daily basis, we offer clients quicker responses to your questions and address your financial needs.
This combination of responsive personal service with state-of-the-art banking technology provides our clients with a superior banking experience.
We look forward to serving you.