LP Management SuiteSM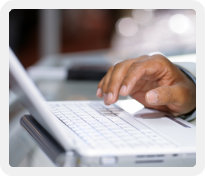 Esquire Bank provides our Legal Practice Financial Management Suite (LP-Suite) free of charge to lawyers and law practices.* This valuable suite of online tools greatly reduces the time and costs associated with cash management. Key features like DepositExpress and ACH services are like having a devoted teller in your office.
Online Banking

24/7 online banking with bill pay

Consolidate funds from multiple business locations into single bank account

Use DepositExpress to deposit checks directly from your office for free

Transfer funds via ACH internally or externally

Initiate domestic and international wire transfers for free

Print official bank checks in your office

Eliminate paper waste via electronic copies of checks

Simple recordkeeping, storage, and retrieval

Eliminate or reduce time spent in, and commuting to, local bank branch

No charge for this entire suite of valuable products and services*

DepositExpress

DepositExpress provides the ability to deposit checks directly into your Esquire Bank account without leaving your office. By reducing clerical time and eliminating trips to the bank, you're able to focus on what's important—your clients, your cases, your business.

Available for free for attorneys and law firms as part of free LP Management Suite*
Make deposits 24/7 without visiting the bank**
Save time and reduce clerical errors
Payments are processed faster
Enhanced security and fraud protection
Reduce paper clutter in your office
Images of checks available online 24/7
Detailed reports generated
Information and logs easily exported to accounting software
Consolidate funds from multiple locations into one account
Simple setup and very easy to use
Compatible with PC and Mac computer platforms

*Bank can assess fees at any time.

**Deposits made prior to 4pm are posted the same business day. Payments made after 4pm, or on a day the bank is closed, are processed the following business day.

DepositExpress can save your practice valuable time and money. Watch our video for a free web demo:

ACH Services

ACH (automated clearing house) services allow for the ability to make and receive payments electronically, including direct deposit of payroll.