Early Access Loan Program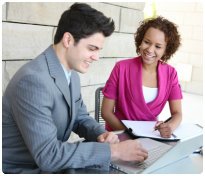 If you have a settled case and need money now, an Early Access Loan can help. The application process is simple and we are available to assist you if needed. While waiting for your settlement funds, an Early Access Loan can put money in your pocket to help pay for monthly mortgage payments, rent, credit card bills or simply have spending money.
Early Access – It's as Easy as 1, 2, 3…
1. Fill out an application with the supporting documents.*
2. Your application will be reviewed.
3. If you qualify, you can receive your money with quick turnaround.
Call us at 1-866-397-6777 to learn more.
Summary

• Low preferred bank rates

• Loans of up to 50% of your net recovery

• Simple process

• Quick turnaround**






Disclosure

*Attorney must supply supporting documents.




**Upon receipt of full and complete qualified application




©2013 Esquire Bank. Terms and conditions subject to change without notice.

Testimonials

My attorney Jared Levine, from Morgan + Levine gave me great news about my case settling. But even better, he put me in touch with Esquire Bank...to get me an Early Access Loan. This loan saved me from getting evicted by my landlord. Thanks Esquire! - Jose, Staten Island, NY




I remembered a letter that I received along with my Notice of Settlement from Seeger Weiss regarding an Early Access Loan Program through Esquire Bank. With faith in God, I...hoped Esquire Bank would be able to help. From the time that I first left...a message regarding my interest in the Early Access Loan Program to the day my money was in the bank was less than a week. They asked me how much I wanted for the loan and they could easily accommodate the amount. I was able to pay off three credit cards and put some money into savings for the next few months while I try to sell my house. Being a single mother is always tough, but [Esquire Bank] helped take some of that stress away and gave me the breathing room I needed to keep my credit score - and my sanity - high! Thank you Esquire Bank! - Brandy, Quartz Hill, CA




I've received a loan from Esquire Bank from my Yaz settlement and they were very helpful. My family was in a tough spot and knew it would be a while before I received my settlement money. Thankfully, my lawyer referred me to Esquire Bank and they might be able to help me out with a loan. They did. It was a very simple process and they did everything they could to get me a loan in loan in as less time as possible...I don't know what I would of did without them. - Renee, St. Thomas, PA