Online Banking Upgrade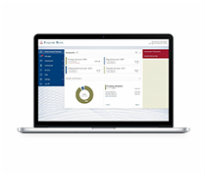 We have upgraded our online banking to provide you with even better service and to enhance your banking experience across all of your devices. For the best experience with the new online banking features, we recommend updating your browser to the latest version.
Here are a few of the exciting improvements you can expect:
A consistent look and feel across all of your devices (desktop, smartphone, and tablet)

Easily find your most commonly used transactions, all on your new home page

View eStatements and check images on all devices

Quickly find your most important data with improved search

A help menu that has frequently asked questions about common tasks

Mobile banking access from your tablet device
Learn more about these updates:
Update your browser to get the most out of the new online banking.
Optimize your online banking experience by updating your browser to one of the following, depending on your operating system:
PC browser compatability:
| | | | |
| --- | --- | --- | --- |
| Browser | Windows Vista SP 2 and 3 | Windows 7 and 8.1 | Windows 10 |
| Google Chrome 37 and later | ✔ | ✔ | ✔ |
| Microsoft Internet Explorer 11.X | | ✔ | ✔ |
| Microsoft EdgeTM | | | ✔ |
| Mozilla® Firefox® 33 and later | ✔ | ✔ | ✔ |
Microsoft Windows 7 SP 1 is required for Internet Explorer 11 support.
Microsoft Windows 8.1 is required for Internet Explorer 11.
Q2online is not compatible with Safari® on Microsoft Windows, as Apple discontinued development of security patches for Microsoft Windows. However, Q2online is compatible with Safari on Mac OS X 10.8, as shown in the next table.
Mac browser compatibility:
| | |
| --- | --- |
| Browser | Mac OS X 10.6 - 10.11 |
| Google Chrome 37 and later | ✔ |
| Safari 6-8 | ✔ |
| Safari 9 | ✔ |
| Mozilla Firefox 33 and later | ✔ |
Additional benefits of updating your browser:
Security: Security features are regularly updated in browsers, and it's important that they be installed. Web browsers pass confidential information entered by you to the websites you visit, and their ability to keep that information secure may be their most critical feature. Out-of-date browsers are a security threat and are vulnerable to viruses and malware
Speed: Current browsers are faster, more usable, and more stable
Compatability: Websites using new technology will be displayed more correctly
Better User Experience: By using an out-of-date browser, you may not be able to access all the content and features that are available
Online banking update FAQ
What is this new "unified experience?"
"Unified experience" simply means that the look and feel of your online banking is consistent on all of your devices. It is intended to improve your experience by making navigation simple and familiar regardless of device.
Will my login change with the upgrade?
No, it will remain the same. And you'll be able to access your online banking via desktop browser, tablet, or smartphone app.
Which browsers are compatible with the online banking upgrade?
The only requirement is that your browser must be HTML5 compatible. We recommend updating your browser to the latest version available -- not just to ensure compatibility with the new online banking experience, but also to ensure that your online banking is as secure as possible. If you try to log in without a compatible browser, you will be redirected to a website to download a new version of the browser.
Some minimally supported browsers, as listed below, may show minor behavioral or cosmetic differences, but will generally support online banking.
The minimally supported browsers are: Internet Explorer – Version 11 and below, Firefox – Version 24 and below, Chrome – Version 30 and below, Safari – Version 6 and below.
Can I use this on my phone/tablet?
Absolutely! You can download the app on any Android or Apple device, and it will provide a consistent experience with banking from your desktop. If you're on a platform that isn't Android or Apple, you can always access online banking via your HTML5-compatible mobile browser.
Where did secure messaging go?
Secure messaging is now available as an option in the menu. In this version, you'll also enjoy a threaded messages feature and the ability to delete multiple messages at one time.
What happened to the help button?
The "Help" button available in the "Menu."
Is my account history still available?
Yes. All of your account history is carried over to the new oniline banking service.
Additional questions? Contact us