Debit Card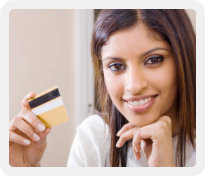 At Esquire Bank, we simply can't understand how other banks charge you just to use money that's already yours. That's why we don't. We proudly offer free access to Allpoint ATMs nationwide with your free debit or ATM card.**
Summary

Free access to Allpoint ATMs nationwide**

MasterCard® debit card accepted worldwide

Funds deducted directly from your checking account

No finance charges, no annual fee

Lost or Stolen Card

If your Esquire Bank ATM card, MasterCard® debit card, and/or PIN is lost, stolen, or misused, immediately notify Esquire Bank.

Call 1-800-996-0213 during normal business hours. During non-business hours you may call 1-800 554-8969. Or write us at 320 Old Country Road, Suite 101, Garden City, NY 11530 immediately to limit your liability.

Also be sure to contact Esquire Bank immediately if you believe a transfer has been made using the information from your checking account without your permission.